About
Hive is a transmedia science fiction series told through novels, short films and interactive simulated reality.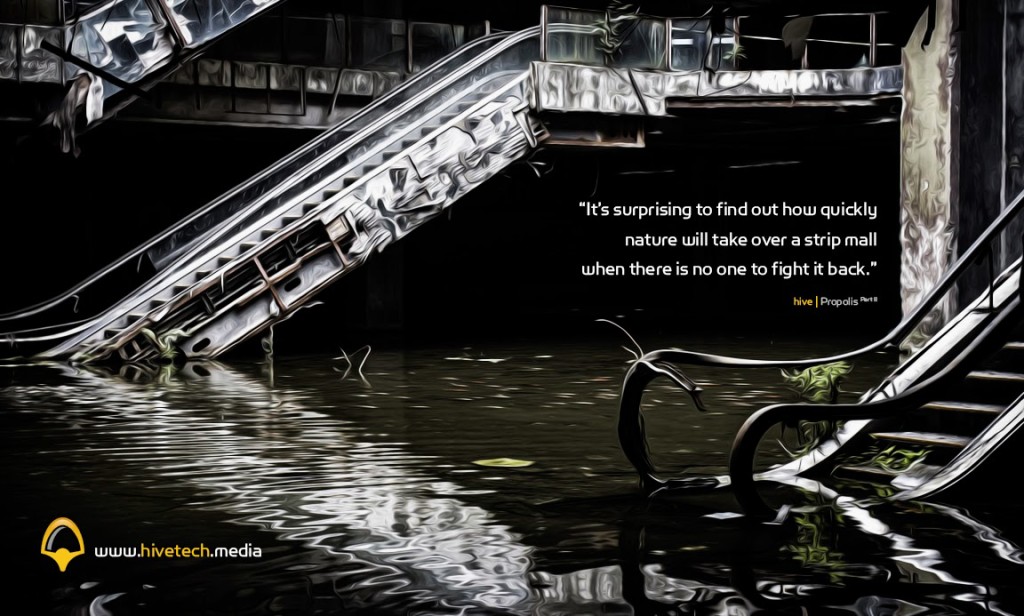 Hive | short synopsis:
In 2023, people were introduced to a new social technology that projected an augmented device directly from their minds. Millions connected to H.I.V.E. (Human Interface for Virtual Evolution) and became a part of a new collective consciousness while others realized they would not be able to adapt into modern society unless they connect. Forced to live on the barren outskirts of civilized Hive cities, The Disconnected grow suspicious of the Hivers in their changing world. Conflict is inevitable between the two cultures, but the reality behind H.I.V.E. may be even stranger than anyone ever realized.
hive | written works

The hive novel series, "hive | Propolis" follows its main protagonist Samantha Plessis from age nine to fifty, who witnesses the extreme changes in her family, friends and the entire world. Story subplots include the HiveTech Corporation's owners, and Hivers developing new and sometimes illegal ways to manipulate their devices to benefit their lives.

hive | Propolis is a six-part series written by Daniel Dw and is the main narrative of the transmedia story.

Included in the hive | written works will be compiled short-stories from Daniel Dw and guest authors including K.I. Kisilev, Dena Merlino and James Curcio (Mythos Media). The hive | anthology will be a three-part series released annually starting in 2016.
hive | short films

The story of the expansive world continues with hive short films, produced by various teams of independent filmmakers and screenwriters. Matt Sundell & John Housley (directors of the 2014 Hive short film pilot) will broaden the world of hive with new characters and stories, while K.I. Kisilev and Daniel Dw will produce hive | Proxy, which intertwines with the novel series.

The 2014 short film, "Hive" can be viewed here. This was a pilot created in 21 days for the Project Twenty1 film competition by Daniel Dw, Matt Sundell & John Housley.
hive | interactive

Included within hive is a world ready for you to discover. Through deciphering messages in the books and films can lead you to real world locations to discover new subplots that will immerse you inside the story. An iPhone or Android phone is recommended for you to bring on your journey.
If you're looking for psychological twists, character-driven stories with adventure in a futuristic world, you will enjoy Hive. If you are interested in contributing to hive with short stories, short films or art, please contact us.